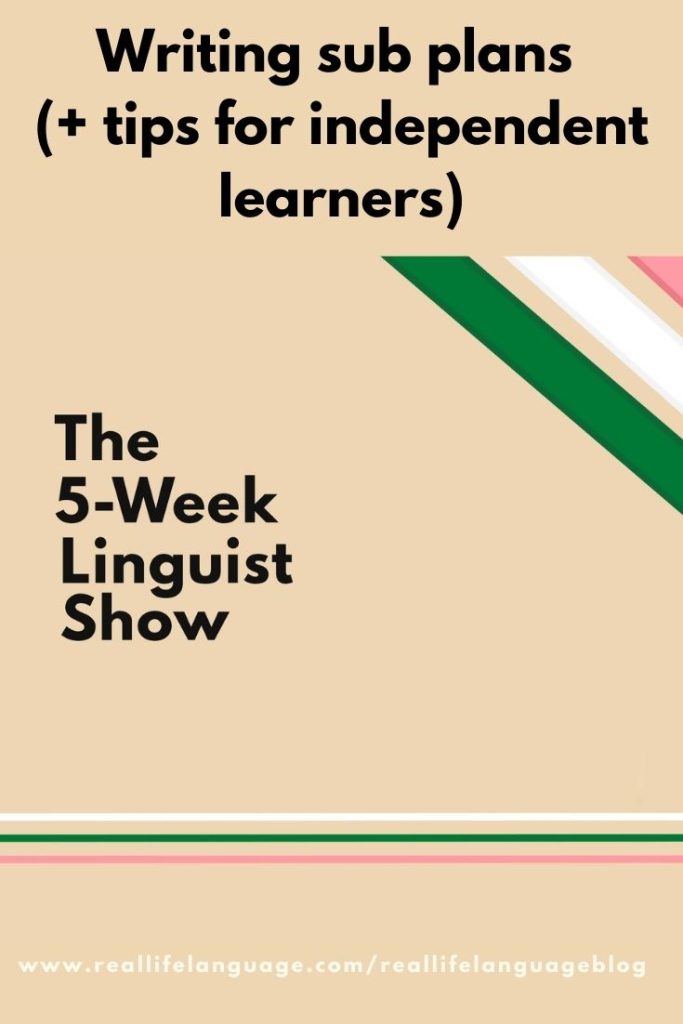 Welcome to the 5-Week Linguist Show. In this episode, we will talk about writing sub plans as a language teacher and what independent learners can do when a teacher is not available.
(00:42) – If you're lucky, get a teacher who speaks the language.
(01:04) – It's challenging to write sub plans as a language teacher. You want them to learn, you don't want to waste time, and It takes a lot of guidance towards beginners to start learning.
(01:36) – Hard topics bring about feelings of inadequacy.
(02:04) – We have to use time effectively to get them to learn as much as we want them.
(02:31) – I have the Five Pillars of sub plans for language teachers
(03:02) – First, we will talk about flashcards.
(04:26) – You can take words, and from there, students can play concentration.
(05:55) – You can "play" them like the Go-Fish style.
(06:22) – It can be an interactive quiz, a guessing game, or even finding pairs.
(07:45) – It is a simple way to learn an interactive and fun set of new vocabularies.
(08:15) – Drawings are an effective way to learn a language.
(08:35) – The point is not the art, but understanding the meaning of the word deeply and interacting with it.
(09:50) – Drawings are interactive when you do this with a student.
(10:36) – Conversations can become a dramatization, role play, or skit, depending on how it's done.
(11:14) – It can be quite difficult for beginners when these things are considered into sub plans.
(12:36) – They can do this as a review of some of the conversations you've had.
(13:10) – Memorizing tends to work well with people at the novice level once they really get into it. Though it takes a while for them to learn, they can do it without a piece of paper.
Looking for some ways to get language into your life? 25 Ways to Learn Every Day
https://real-life-language.ck.page/82ccd204c8
Podcast: Play in new window | Download
Subscribe: RSS