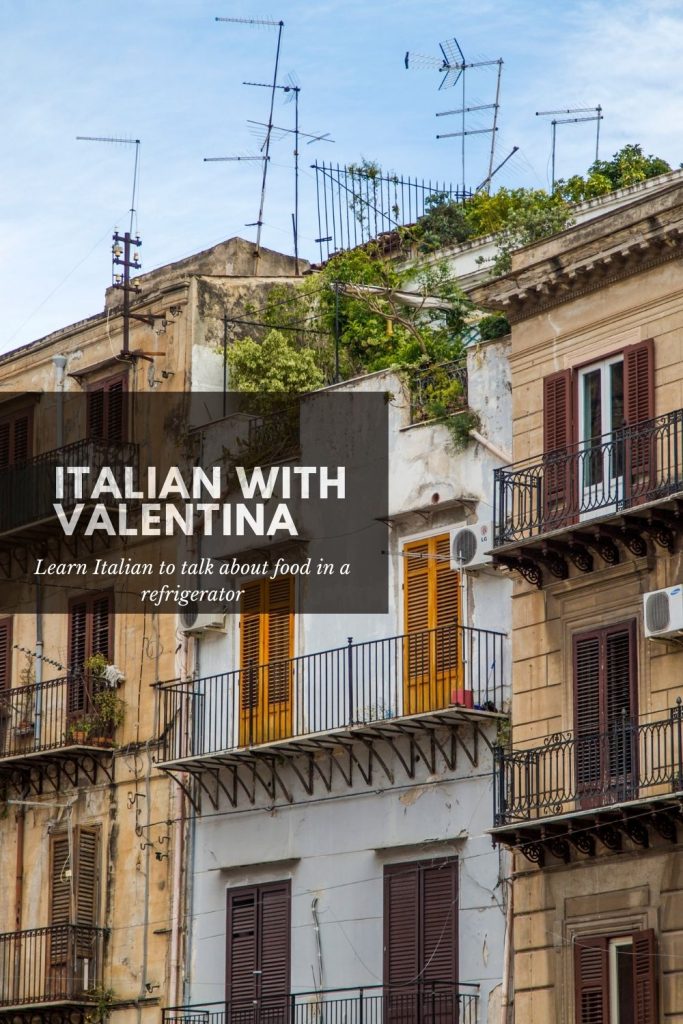 In this video you'll discover the content of a fridge in a real Italian house.
Ciao a tutti, in questo video andremo alla scoperta del mio frigorifero.
Innanzitutto possiamo vedere dei dolci: alla frutta, cannoli, una sfogliatella e dei bignè alla panna. Una bottiglia di latte di riso, del cioccolato, le uova, la panna montata, maionese, concentrato di pomodoro, salsa rosa, caffè, burro di arachidi. Abbiamo anche marmellata, olio di cocco, ancora uova, pomodoro. Poi abbiamo degli hamburger di prosciutto, salame, mozzarella, tortellini cioè una pasta fresca all'uovo ripiena, uno yogurt al cocco. Poi abbiamo dei salumi: salame, prosciutto crudo, prosciutto cotto e mortadella. Poi abbiamo würstel, altro formaggio, amiamo molto il formaggio. Abbiamo anche del pollo, il burro, degli snack
dolci. Abbiamo della verdura: zucchine, melanzane, fagiolini, limoni, una carota e un peperone rosso. Tra la frutta abbiamo: mele e pesche. Ho anche la pasta sfoglia per fare una torta salata e infine un pò di melone bianco.

Grazie per aver visitato il mio frigorifero.
Let's recap some words about food in an Italian fridge:
dolci desserts
frutta fruit
bignè cream puff
latte di riso rice milk
cioccolato chocolate
uova eggs
panna montata whipped cream
maionese mayonnaise
concentrato di pomodoro tomato concentrate
salsa rosa cocktail sauce
caffè coffee
burro di arachidi peanut butter
marmellata jam
olio di cocco coconut oil
pomodoro tomato
salame salami
yogurt al cocco coconut yogurt
prosciutto crudo prosciutto
prosciutto cotto baked ham
mortadella mortadella
würstel hotdog
formaggio cheese
pollo chicken
burro butter
zucchina zucchini
melanzana eggplant
fagiolini green beans
limone lemon
carota carrot
peperone rosso red pepper
mela apple
pesca peach
melone bianco melon
Want some more Italian? Italian letters: writing vocabulary
We learn languages most effectively in chunks–meaningful words and phrases to communicate right away.
Italian for Travel and Beginners free book with linked audio. Get yours here: https://reallifelanguage.lpages.co/italian-for-travel-and-beginners/
https://reallifelanguage.lpages.co/italian-for-travel-and-beginners-podcast/
Looking to get started in Italian? Try learning some survival tasks. Get the free guide here:
https://reallifelanguage.lpages.co/survival-language-checklist/
Learning a new language is FUN!! Check out 20 ways to learn a language and have fun doing it:
https://reallifelanguage.lpages.co/20-fun-activities-to-learn-a-language/
Want to master a language in the next year? Check out the course here: https://real-life-language.teachable.com/p/the-5-week-linguist