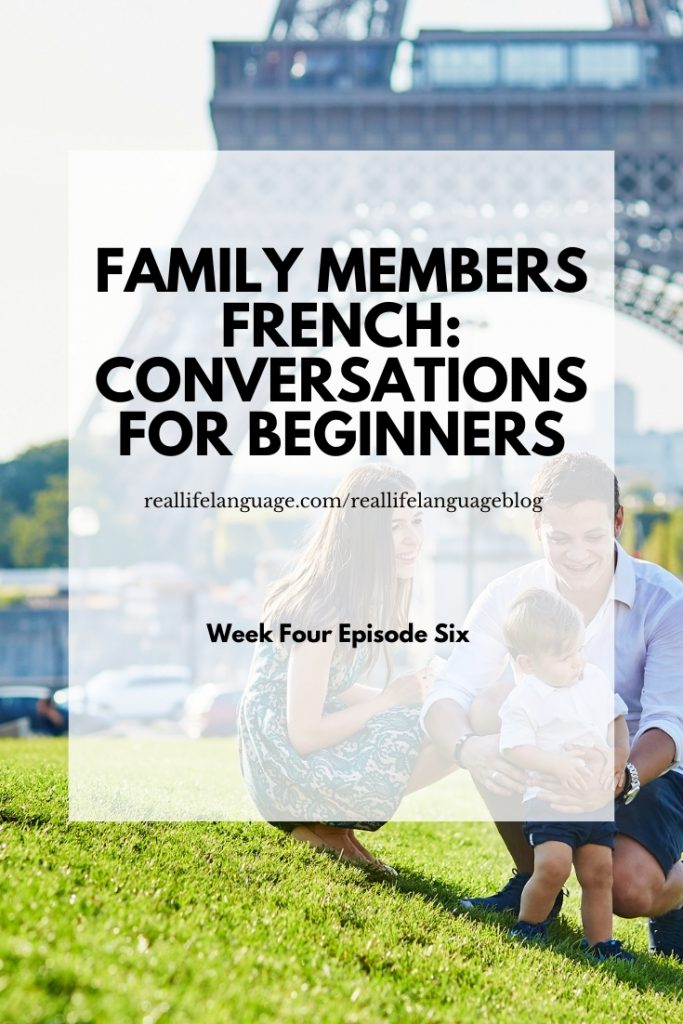 Welcome to Everyday French Conversations for Beginners Week 4 Episode 5. We'll review greetings phrases and family members in French.
Today's lesson is the follow-up to last week's lesson. That was a throwback to review meeting and greeting, talk about where people are from, building fluency, and the importance of errors. We'll continue that conversation briefly and then expand on it, discussing family members and possessives in French. It's important to be able to say "my" or "yours" for example. You'll hear that in context in tonight's lesson.
(01:25) Playback of a classic clip where Joelle was still learning French, including a recap of the previous week.
(02:45) Morning and evening greetings. A quick conversation meeting for the first time. What's your name? My name is ____.
Asking someone's name in the formal sense, with the answer. There were subject pronouns such as I, he, she, formal you (or more than one person). How to ask someone where they're from and answer. Joel and Janina also discussed their mothers.
(05:15) We'll go deeper into the "family" topic. How to say my mother, my father, your father, your mother, sister, brother, three sisters.
(07:40) Conversation begins discussing their fathers.
(08:15) Joel explains where his father lives in French. Joel's father lives in France and Janina's father lives in the United States.
(09:00) Back to the conversation.
(10:00) How to ask where someone lives. Janina said that her brother lives in Colorado, same as her father. They both have the same first name. Feminine "mine" and masculine "your" and they talked about sisters. "I have a lot of sisters."
(11:45) How to refer to siblings in French. There's a word that could mean step-mother or mother-in-law. How to refer to your father-in-law or step-father.
(13:00) Brother-in-law, my daughter. More than one daughter. Son. My children.
(13:30) Back to French conversation.
(14:15) How old is Constance? Constance is 8 years old. And further conversation… Timothy is 10.
(15:35) How to say if you have more than one daughter, more than one son, and children.
(16:15) Aunts and uncles, as well as "nice" names for those such as "auntie."
(17:00) Conversation in French discussing their aunts and uncles and where they come from.
(18:00) Cousin, male and female versions.
(19:30) A few French words are easy to remember because you don't pronounce the last letter of the word.
(19:50) How to talk about half-siblings or step-siblings. You'd simply add the French word for "half" in front, and you wouldn't use the term step-sister or step-brother, you'd simply refer to them as your brother or sister.
(20:50) Grandparents and great-grandparents. How to say grandmother, grandfather, and daughter-in-law.
Review meetings and greetings phrases here:
| | | |
| --- | --- | --- |
| Bonjour. | | Hello. |
| Bonjour. | | Good morning. |
| Bon après-midi. | | Good afternoon. |
| Bonne soirée. | | Good evening. |
| Au revoir. | | Goodbye. |
| À bientôt. | | See you later. |
| Je n'ai pas compris. | | I don't understand. |
Want the free audio? French for Travel and Beginners free book with linked audio. Get yours here: https://reallifelanguage.lpages.co/french-phrase-book/
Thinking about learning French? Try learning some survival tasks. Get the free guide here:
https://reallifelanguage.lpages.co/survival-language-checklist/
Trying to find a new way to learn a language? Check out 20 ways to learn a language and have fun doing it:
https://reallifelanguage.lpages.co/20-fun-activities-to-learn-a-language/
Want to master a language in the next year? Check out the course here: https://real-life-language.teachable.com/p/the-5-week-linguist
Podcast: Play in new window | Download
Subscribe: RSS