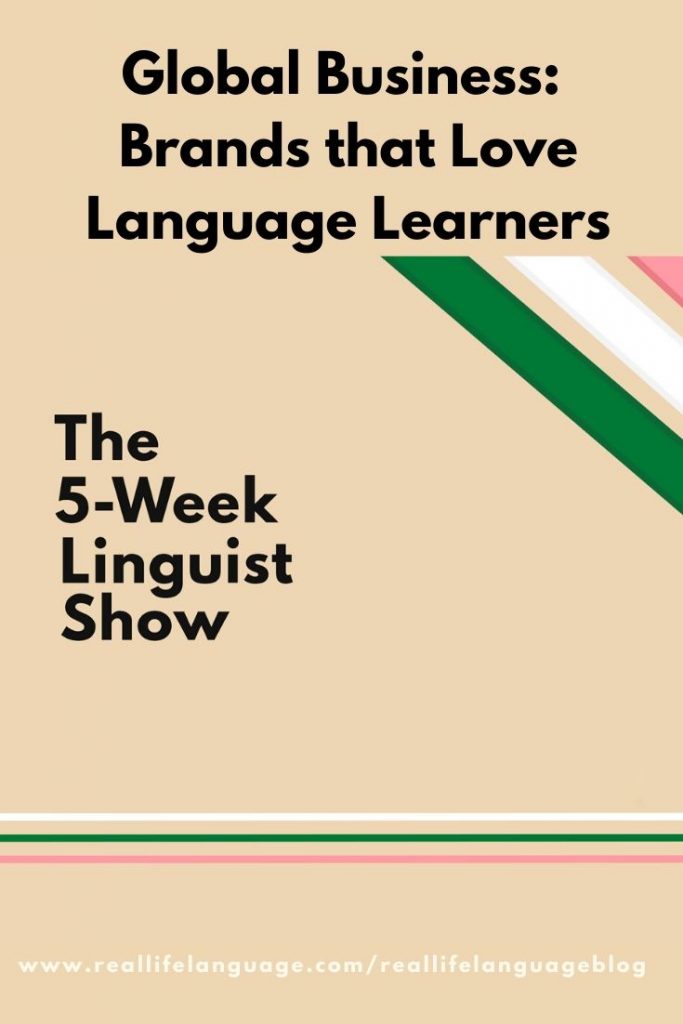 Global Business: Brands that Love Language Learners
Welcome to The 5-Week Linguist Show. If you want to learn a language or you teach a language, you've come to the right place. Join Janina each week for tips, resources, and advice for making engaging language learning happen anytime, anywhere.
Hola. Welcome to The 5-Week Linguist Show. Today, I wanted to talk about global business and brands that love language learners. So I wanted to talk about five different brands today that didn't set out to be incredibly valuable to language learners, but they have. And I want to share with you specifically, how to use and take advantage of what they offer language learners.
Global business and McDonald's.
So, McDonald's is a very controversial subject in many ways, for obvious reasons, fast food and health and Supersize Me. And I certainly don't have any arguments really against anybody's concerns about eating too much fast food. However, I have to admit that McDonald's holds a very special place in my heart because it was my first job when I was in high school. And I had a really difficult childhood if I'm really honest, and I get into it in bits and pieces. And I'm from a very illustrious family quite frankly, people have done some really amazing things. But my parents' marriage ended when I was young and my mom had one expectation of life and we ended up living in complete poverty after my parents got divorced.
And McDonald's gave me the opportunity to actually buy my own school clothes and buy shampoo and things that were not coming easily to me before then. So I'm really grateful to this company for that. And when I think about the training program, I moved up to sort of shift manager so I was able to handle a lot of things. It really give me a lot of responsibility. And I saw all the opportunities that they gave to people without education and the training materials were excellent. And I do have to owe some of what they done or some of what I've learned as a teacher about making things easy and simple and repeating things don't need to be hard oftentimes. Good training materials, good pictures and keeping messages simple can be really a good thing. And so I'm really partial to them. And I also had some interesting experiences.
I moved too quickly to the drive-thru and where you talk to people. This was before we had all the headphones and we had a speaker and I used to have to answer, "Welcome to McDonald's drive-thru. Can I take your order?" And oftentimes people would entertain themselves and their friends by trying to order specific things like, "I want a hotdog," "We haven't invented the McQweenie," I would say, or they wanted a Whopper or Pepsi. Of course, things that are at rival, Burger King.
And so over the years, fortunately, my life is really different than it was in those days. I am doing a lot better financially than I was as a teenager. I'm not living in total poverty. I have a master's degree. I have a home. I live in Cambridge, England. I speak several languages. I feel really, really, really, really blessed, but I'm really grateful to them. They keep giving me the opportunity to see some immediate rewards for my work and my effort, and they've really served me in the long term. And as I've traveled throughout the world, I've noticed some interesting things when I go into McDonald's. So I took notice really early on in traveling, how interesting some of the menu offerings were and some of the practices. And now looking back, of course, I see that this was this brand adapting to local cultures and languages.
Global Business: Adapting to Local Cultures
This brand from, I don't know if it's Indiana or California, I think it's California, Ray Kroc, I believe, they have more than 35,000 restaurants around the world. And regardless of what you think of health, they've definitely embrace connecting with local communities doing a lot of great work like Ronald McDonald House for sick children. And some of the really funny things that I've also found is on the menus, how they adapt locally. So I wanted to start with a few different examples from some different countries. If you've been to France in Paris, you'll look and you'll see the Big Mac with poulet, with chicken. And of course it's halal so that's to adapt to the large number of people from the Maghreb. And in Europe of course, we say Mickey D's. In United States, they call it McDo. People love it. And they've done those things to adapt to the local culture. How interesting is that? It's just a great little example, I think.
If you go to McDonald's in Spain, you will see gazpacho and you will see them serve beer. So you can get a big beer, if you go to McDonald's in Madrid. It's pretty amazing. Here in the UK, people for the most part, love to go to the United States for holiday. So they love to fly from London to Orlando, let's say, or California, New York, huge country. And you'll often find different burgers that they're promoting, signature burger. So the Tennessee or the Arizona, or these different burgers that are supposed to represent these different popular places in the United States. And perhaps I'm not lived in the United States for a while and maybe that type of thing is popular there, maybe those same burgers are showing up on the menus there, but I'm not so sure.
A couple of years ago, I actually visited in New Hampshire the McDonald's that I worked at. I went to a high school, about 55-60 minutes north of Boston, and on the border of Maine, on the New Hampshire Seacoast. And you could literally walk to Maine, and every summer they have the McLobster rolls. So maybe these state burgers are around there. If you know that, leave it in the comments. I'm really curious.
In Korea. So for the most part in South Korea, in Seoul, I worked in Seoul for three years, and people tend to eat the same types of foods for breakfast as they do for lunch and for dinner. So they tend to open later and they serve the same thing so I just find that interesting. When I went anyway, perhaps it's changed, there's no bacon, egg, and cheese biscuit. There's no McMuffin. There's nothing like that there. So that's a reflection of the culture. And in Japan, I lived in Japan for five years. And it's my opinion that in Japan, foods, particularly in my experience was in the Tokyo area, I lived in Yokohama and just outside of Yokohama for five years, and people loved foods from other countries and they did them incredibly well. It was amazing. So you might find an amazing Indian restaurant or an amazing French restaurant or a great American burger and McDonald's was no different.
So McDonald's in Japan served all sorts of interesting American foods done well. So you could get your Egg McMuffin, those sorts of things from the States, but they also had things like the McTeriyaki burger, really interesting. And if you want a good reading exercise, if you're beginning in a language, I highly recommend Googling the different McDonald's sites in different countries or Googling McDonald's menus from around the world. And you can actually see sort of PDF or websites of what they serve at these different countries, and it's excellent for beginners, this type of reading.
Global Business: Realia for Language Learning
And we call things from target language culture like that, menus or tickets, realia, and they're the real things that you're going to deal with sort of survival language type stuff. So it's an excellent opportunity to get an idea of the currency and what that looks like in terms of your own currency, how that compares. And it's a great opportunity to learn how to read in another language. Just like they do with their training materials, they're very visual and they're easy to understand. So it's a great tool. It might seem like a strange thing, but it's a great tool to learn a new language.
Global Business: AirBNB
So global business and Airbnb. Now, Airbnb might seem like a really obvious choice for language lovers because they've got properties all over the world that people sign up for Airbnb and you can go wherever really and find something suitable for the most part. But what I think is really interesting is what else they offer. So I am obviously a very passionate language teacher and lover of languages. And because I teach full time, I work full time, I don't always have the time that I would want to be able to dedicate to languages unless it's summertime because I don't teach classes and I intentionally don't teach summer school or anything like that, so that I can enrich. I can put my oxygen mask on and Airbnb has been great for that.
A lot of private language schools, but through EF, that's a big one, Berlitz, they've got them, International House, you can go study abroad for as little as a week or two or a year or longer. And they can connect you with a host nation family, which is a great experience. But, at my point in life, I really like to feel at home. And I always had the dream of living in Paris and I did five weeks at an Airbnb in Paris. It was amazing. It was a wonderful experience and the advice on how to do it and the opportunity just all came at the perfect time in my life. It was this amazing respite from one of the very worst periods of my life and it was this little wonderful oasis for me.
And what I find what they do that's so great for language lovers is if you were to say, go to an Airbnb, and maybe you can, maybe you have the option of Airbnb-ing your place out while you go or you're at Airbnb-ing at somebody else's house, you can then take a language class. But then as far as additional activities, they offer lots of great activities. So I want to say, if I recall the activities I saw, they have language classes, they have interesting little local tours. Things that are really unique that you just wouldn't find anywhere else, or that would be really difficult to find. So French cooking in Paris, for example, and I seem to recall, tours at French bookstores, or a two-hour lesson in French slang. Amazing.
I think they did some things like cooking and coffee and wine tasting and really niche sort of specialized things. So whatever you like, you should be able to find something that's suitable to your interest to help you learn a language. So I think they're amazing. So even if you had not set out to be great for language learners, they certainly offer language learners and lovers great opportunities to live in another culture, just like the locals which is pretty important part of learning how to connect with people.
Global Business: Chase
Another brand that's great for language learners is Chase. And a few years ago, I had the opportunity to meet a couple of amazing people. One of them is Grant Sabatier and he does a lot with… He has a book called Financial freedom and Millennial Money podcast, I believe it is. And Farnoosh Torabi and she writes for oprah.com and she has her so many podcasts, amazing lady. Anyway, they turned me on to the idea of some of these great Chase cards that are out there. And so shop around, you can have, Chase United, which I have and get miles, and turn your purchases, basically into rewards and other things. If you're really mindful about it, it can really open some doors that would have just not been open, so check it out.
Global Business: Netflix
The next global brand that loves language learners is Netflix. I think they've been amazing. So if you recall, they used to be love film and people would send DVDs back and forth in the post. It was pretty clever, but as time has evolved, and we don't do that anymore, that we stream everything. We don't actually have a physical DVD or video even, blockbuster. We now have this great collection, so they just keep expanding their content. And of course, this is content produced by other people, but they were smart. This global brand was smart. And what they did is once they really became a thing, they started producing great content in these different languages and then making it available to people in other cultures. So you can see series from Italy, from France, from Japan. How clever is that?
So while these are intended for a local audience, for the most part, this global brand thinks more broadly and you can use it as a language learner and they have all sorts of, you can caption it, you can get, if you watch on your laptop, a plugin called Netflix for language learning, and they actually have a catalog of how to find different languages or different content. So you set a little filter that I'll put in the link below. So you can see it and you can find this and that language and this and that language.
You can also, and I don't really recommend this a hundred percent, but I think it's actually an okay method. It's better than nothing. So taking a show that you've already watched, if you want to rewatch something, and putting it in your target language and putting on the captions, because you already know what's happening, you're not going to get lost and you'll pick up a lot of words along the way. So while it isn't authentic, it's definitely something that you can do and it won't be too mind taxing for you because you'll get to kind of re-enjoy the story in a totally different way.
Global Business: Starbucks
Another global brand that loves language learners is Starbucks. So of course Starbucks is American, and I don't even know how many stores they have all around the world. And I can imagine that they haven't intentionally set out to be too localized culturally, from what I can see, that isn't really the case. So there's lots of English in the menus, lots of the same types of choices that I would expect to see in the United States. And it's more for people who love or interested in American culture, right? So if you go to Paris, you'll find Starbucks, you'll find Five Guys, that kind of thing. And they're not too localized, which is kind of the beauty of it. But what I love about Starbucks, is they offer an experience, right? And the perfect, they were sort of the leaders in globalizing this, I think, that idea of coming in and having being able to charge your device and having something really great to drink sitting down on your feet and studying a language. And you can do that.
You can have coffee talk really with someone else, with a friend, right? Talking and chatting, having your language exchange sessions there, having your language tutoring sessions there, or on your own. You're sitting and waiting for something. And you can sit and do a lesson on your device because they have free wifi while you're sitting and relaxing. And there's relaxing music in the background. And I think it's also really evident, I love all their local travel mugs. So what a great souvenir when you go around the world and, and you pick up your, your Starbucks mug that has all these iconic images from wherever you were.
Global Business: Opportunities to Learn Languages
So perhaps these global brands had no attention on appealing to language learners, and their motivation was purely growth and financial, but I think they all show really good example of how to adapt to other cultures and not just survive, but to really thrive. And they've all got really practical ways to help us, anybody who wants to learn a language, learn a language. Until next time.
Thank you for listening to The 5-Week Linguist Show with Janina Klimas. Join us each week here and visit us at reallifelanguage.com/reallifelanguageblog for more resources for learning and teaching languages.
https://languagelearningwithnetflix.com/catalogue.html#language=English&country=
Want to measure your progress in any language? https://real-life-language.teachable.com/p/measure-your-progress-and-fluency-in-any-language
Want more resources to immerse yourself in languages? Language immersion: What is it?
Podcast: Play in new window | Download
Subscribe: RSS