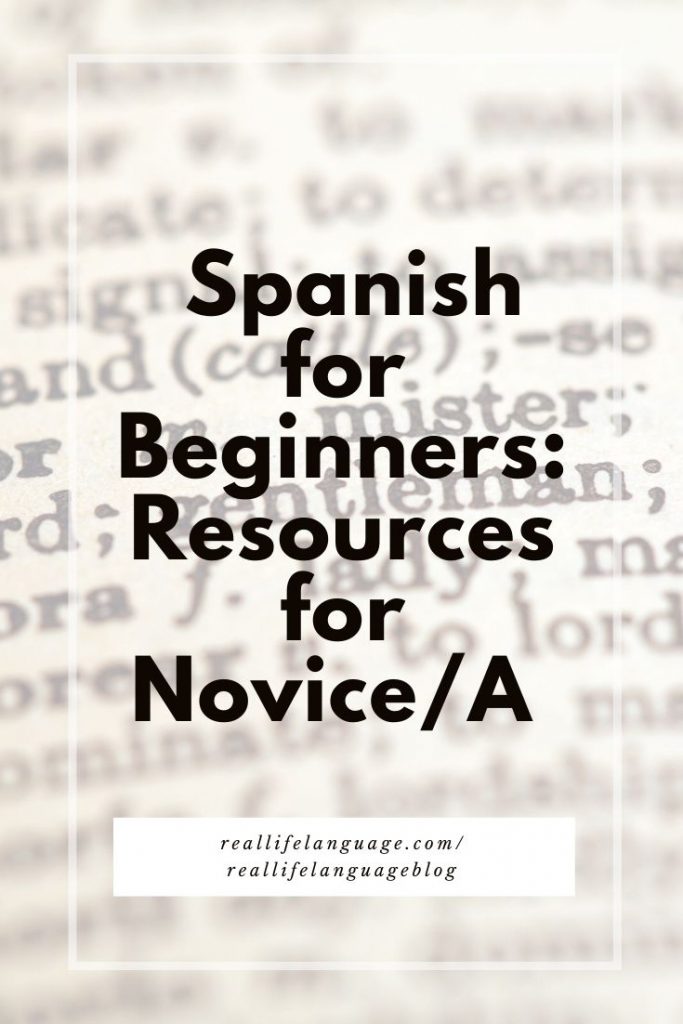 Spanish for Beginners: What can you do at this level?

There are so many great resources out there aimed at Spanish for beginners. You can find engaging, effective and fun materials to learn Spanish anywhere.

Absolute Spanish for Beginners: Novice/A-level (ACTFL/CEFR) language learners begin that level with absolutely no ability to speak or understand a language. As they hit the top of the Novice/A level, they're able to understand and produce words and phrases, and to begin to create their own messages with these words and phrases that they learned throughout the Novice/A level. It is a very fun level because you can make progress very quickly.

Here are some of my very favorite resources for beginners of Spanish. This post does contain some affiliate links.

I love learning languages in five-week intervals. The five-week period began during my summer breaks from teaching languages. I would get five weeks to take classes, study on my own, or travel abroad and learn languages. Technology and the smartphone has made it very easy to do these five weeks intervals anywhere and at any time of the year. I have stayed active in learning languages because I enjoy it, and I get many of my best ideas for teaching from it.

Here are a list of resources specifically geared for Spanish for beginners:.

Pimsleur is probably one of my very favorite resources. I love listening to Pimsleur courses in my car. If you purchase Pimsleur from Audible, as I often do, can go and be listened to right from the audible app. You can also listen on your Alexa. Think about all the things that you can do while you're learning a language. Clean your house, clean out your closets, exercise, run errands or commute. It's highly effective program and I'd recommend it to anyone getting started in a language.
Instant Immersion. This is also known as the utalk app. This app does not promise fluency. It's really just for beginners. I discovered this many years ago and love to recommend it to people starting out in the language. It's immersive, addictive, fun.
Gabe Weiner, the author of Fluent Forever, has created an app from his Anki Card system.

Mark Frobose publishes many materials in many languages. Again, a great way to learn on your car or with your Alexa.
Coffee Break Languages. Loads of free content with links to full courses. Highly recommend.
Michel Thomas. This is one of my very favorites. He takes students through a series of exercises where you can hear them start to speak with lots of prompts and scaffolding. They then can create language for themselves.
Phrasebooks. This is probably one of my very favorite methods. Phrasebooks for travel are intended for people to be able to function and survive in a language at the most basic level for a trip. However, this is the most basic for beginners of language and so I highly recommend using Phrasebooks.

All the themes are presented in the vocabulary and grammar is all in meaningful chunks. You'll get talking quickly and effectively. And what happens when you start being able to communicate, it will boost your confidence. Travel Phrasebooks are a very quick way to do it.
Remember those Phrasebooks we explored? Here are a couple of ways to really use them in an impactful way.
Vocabulary Columns and the Gold List method. Lydia Machova does a beautiful job of explaining it here in this video.

You can even make your own phrase books with Google Translate. Google Translate gets a bad rap because online translators were very poor in the beginning. For example, in Spanish we have four ways to say the. Early versions of online translators would give you only one, which may or may not be the one that you need.
Google Translate is constantly improving its content by scanning documents that were translated by humans, so the results get better and better and better all the time. Well, not 100% accurate, constantly improving. And it's completely free. They'll even say the words for you and you can build your own phrase books on a Google sheet. You can go to a site like Forvo or RhinoSpike and hear how those words are pronounced.
http://reallifelanguage.com/reallifelanguageblog/2017/01/14/free-spanish-travel-beginners-book/

Google Translate Some ways we use this in the language classroom.

Doodles. I absolutely love Doodles. I'm a terrible artist and don't particularly enjoy drawing. However, I find that drawing vocabulary isn't a very effective way to learn vocabulary, very basic vocabulary and different themes. Try some of these exercises using a dictionary or Google Translate.

FlashSticks. I absolutely love this fun, clever little tool. Post-it is a great tool for teaching languages. At the most basic level you can use it to label vocabulary. At a much more advanced stage you can use them to organize your writing. The last thing we develop in a language.
These FlashSticks were invented by someone who really struggled with learning Spanish and labeled everything in the room. And everything's also color-coded by part of speech. And they have a very robust and very addictive online pool of resources in games. And my very favorite is it's got a visual translator. So you can take pictures of things with your phone and start learning the vocabulary for that in your target language. Very, very, very clever and fun. Really enjoyed this!
Yabla. This is one of my absolute favorites for beginners and intermediate. It's essentially a growing library of content in Spanish with a patented video player. So you can watch videos being completely immersed in authentic language and culture with subtitles and captions, and the patented player will make it slower, or faster, and will repeat. So a video, perhaps a one hour TV show will be broken up into numerous episodes. I've discovered some really enjoyable TV shows and they teach everything completely in Spanish. There's also loads of games and an active community as well.
Spanish Video Immersion