Week Three Episode Six
Welcome back. In our episode tonight, we'll complain about our hotel room.
(02:10) Discussions about finding hotels.
(03:45) More discussion about areas of Paris and great hotels there. Important historical people are buried in the Patheon.
(05:30) Outside Paris, there are many clean family-owned hotels throughout France. You can stay at a bed-and-breakfast. Although you'll hope to have a nice stay, let's go through some dialogue that will be helpful if your stay does not go as planned.
(08:20) Dialogue between the American, the management, and housekeeper.
(09:20) As a summary: it was already 6:00 and the lamp didn't work and the bed wasn't made. Let's break down the relevant words and phrases.
(12:10) Let's break down these words and phrases: bed, to make, made, lamp, light bulb, to walk, 6 o'clock, 5 o'clock, 4 o'clock, 1 o'clock. We (or us). we are late today. Are late. Today.
(13:10) Chambermaid/housekeeper. Right away or right now. Knock on the door. At the door. To come. To clean up your room. To put. These or those. Towel. In or into. Do you know? Did you know? To have. To sit down. I will be only two minutes. By the way.
(14:40) Final thoughts about traveling in France: go on TripAdvisor or Expedia. It's best to get out of Paris, get off the beaten path, and visit the wine regions.
Until next time, for more resources on learning and teaching languages, to get on our mailing list or get the workbook, visit reallifelanguage.com/reallifelanguageblog. If you enjoyed this episode, please be sure to subscribe and leave a rating.
Want the entire FREE course?
*30 audio lessons of everyday French for beginners
*4 Graduation gifts
Oui, s'il vous plaît!
Click here to subscribe to your free French course and get your bonus 25 crossword puzzles in French!
Pin it for later!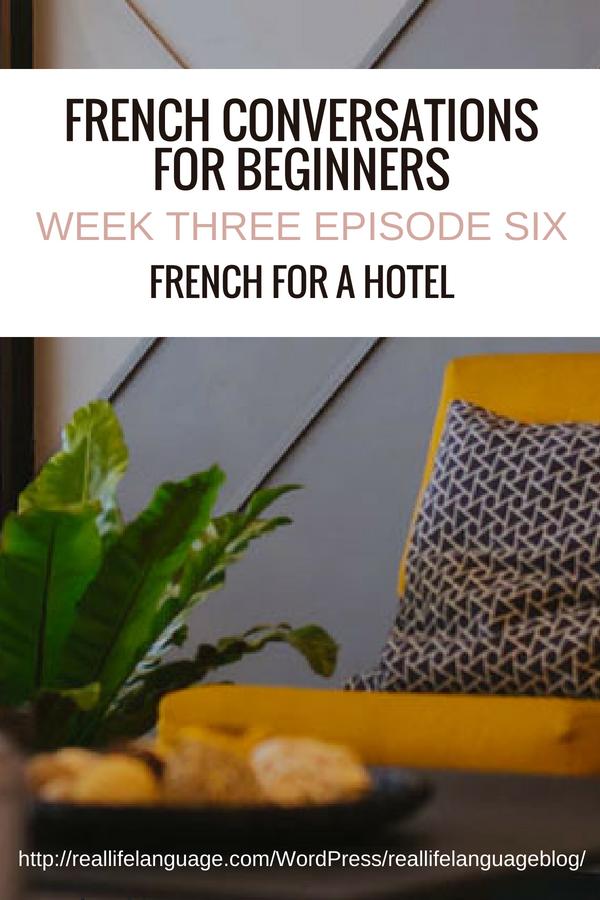 Podcast: Play in new window | Download